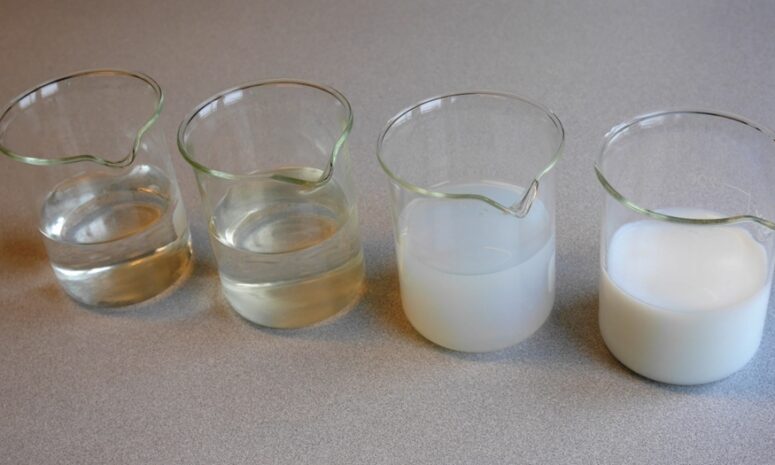 Silica sol is a stable suspension of spherical silicon dioxide (SiO2) nanoparticles in a liquid that are hydroxylated on the surface. Stable, colloidal sol is manufactured by the process of vigorously mixing a slurry of calcium silicate with a dilute acid having a pKa value of less than about 8, followed by separating the sol from the insoluble precipitate of calcium salt. The process proves to be more inexpensive for the production of the sol as opposed to the methods that use sodium silicate instead of calcium silicate as the starting material.
Silica sol or Colloidal silicic acid is used as a drainage aid in papermaking, an abrasive for polishing silicon wafers in the electronics industry, as concrete densifiers and polished concrete. It is also used as an additive in the cosmetics and food industry. The size and distribution width of the particles dictate the application of that particular variety. 
Market Analysis
In India, colloidal silica and colloidal silica binders have found increasing applications in:
Chemical mechanical planarization (CMP) slurries to polish agents in the electronics industry. 

Foundry

Ceramics

Refractory and coatings

Papermaking and textile 

Catalyst carriers

Paints & coatings, 

Catalyst support in chemicals and pulp & paper mills.
Due to its excessive demand, the global market for colloidal silica and colloidal silica binders in electronics is predicted to register a CAGR of 6% and 6.8% in terms of volume and value during 2019-2025 and reach a projected 84.5 thousand metric tons by 2025. 
Indian Manufacturers
The major manufacturers of colloidal or silica sol have won over their users by means of the quality of their products as well as their experience in the field. Some of the major names in this field include:
The Colloidal Silica India Group 
This comprises the following companies:
Dr. Khan Industrial Consultants Pvt. Ltd
Based in Maharashtra, DKIC is a 100% manufacturing company. They specialize in silica-based chemicals and chemical intermediates and cater to an array of industries ranging from high-temperature foundry and steel industries to textile, paints, and electronics.
Established in 1985, they primarily worked in manufacturing colloidal silica for the investment casting industry. Today, they have expanded in manufacturing various grades of colloidal silica and allied products used in construction, textile, paper, foundry, electronics, paints & inks.
The colloidal Silica India Group of companies is India's leading manufacturer of colloidal silica with a combined market share of over 70%.
Gujarat Silicon

 
Gujarat Silicon specializes in the manufacture of Colloidal Silica Sol and Anti Fouling Nano Coatings. Their products are custom designed based on user specifications and developed to meet unique applications. They manufacture G-SiL silica sol which is a finely distributed, colloidal form with G-SiL particles in the nm range. They possess a very high degree of purity and lack the presence of alkalis and electrolytes. The application of nano-coating is primarily as a sealant. 
Bee Chems
Established in 1972, by Mr. Somendra Bhalla, Bee Chem has been working in the field of silica and alumina chemistry. With a 100% in-house manufacturing of products, they became the first company to manufacture activated desiccants and eco-friendly silica gel. Since Nanochemistry and silicates were the founding pillars of Bee Chem, they are known for the production of Colloidal silica concrete, Colloidal Silica Densifier, Polished Colloidal Silica, and Colloidal Silica Binders.  
Sterling Chemicals
Based in the city of Ankleshwar, Gujarat, the company was founded in 1993 and has occupied a significant role in manufacturing niche chemicals like Potassium Dichromate, Chrome-oxide green, Sodium Nitrate, Potassium Nitrate, Calcium Lactate, and Lactic acid in India. They manufacture calcium nitrate, which is used in the manufacture of latex gloves, fertilizers, and sewage treatment.
Retention – 90 is an innovation by Sterling Chemicals that is used to enable better retention of fine pulp in papermaking, thus resulting in less waste material.
Patalia Chem Industries
Founded in 1969, Natalia Chem in Gujarat produces and manufactures products that find application in natural gas, refining, refrigeration, insulating glass, commercial and military packaging, telecommunication, Humidity indicators, catalyst carriers, Chromatographic media, and cigarette filters. Their products primarily include molecular sieves, ceramic fiber products, silica gel, activated alumina, ceramic balls, and insulation blankets.
Research conducted has proved that the incorporation of nano-silica in cementitious materials improves the durability and sustainability of concrete and lead to a significant increment in mechanical properties. Its amazing effect on the mechanical, durability, and microstructure characteristics of paste, mortar, and concrete has led to a predicted future trend of a booming increase in the incorporation of nano-silica silica products in various industries.